HOW CAMCO VBS DRIVES GATE EFFICIENCY AT PD PORTS
PD Ports implemented the CAMCO gate automation and Vehicle Booking System (VBS) in July 2019 at Teesport. In just 12 months over 370,000 appointments were created amongst 1,300 individual users and over 6,000 license plates registrations. VBS has become a strategic tool in gathering truck visit info upfront, and a key driver for gate efficiency and optimum customer experience.
TEESPORT, THE UK NORTHERN GATEWAY FOR GLOBAL SHIPPERS
With a capacity of 575,000 TEU, Teesport is the UK's northern gateway for global shippers. Serving worldwide markets including Scandinavia, the Baltics, Russia, Belgium and the Netherlands, Teesport supports the movement of international imports and exports throughout the North of the UK. An onsite intermodal rail terminal enables direct access to the national rail network.
VBS AND GATE AUTOMATION: ELIMINATING THE GATE BOTTLE NECK
In 2018, Camco Technologies was awarded the gate automation of the Teesport terminal. The automation project included the design, engineering, construction and software integration of the terminal's in and outbound Truck OCR, gate kiosks as well as the Gate Operating System (GOS).
For Melanie Hannaway, Change & Delivery Manager, the original intention was to go live with the Automated Gate without a truck appointment system, but including a pre-gate. Early in the journey, it became apparent that in order to have the most efficient gate process, a Vehicle Booking System was to be considered too since this would improve the data quality of bookings before drivers even arrived at the gate.
Without VBS, certain problems surfaced only when trucks physically arrived at the gate (incorrect PIN numbers etc). Rectifying exceptions would continue to require manual work of handling exceptions, slowing down the process for other hauliers. As the VBS was implemented in conjunction with the GOS, the combined solution allowed to remove a pre-gate and filter out problematic traffic before it arrived.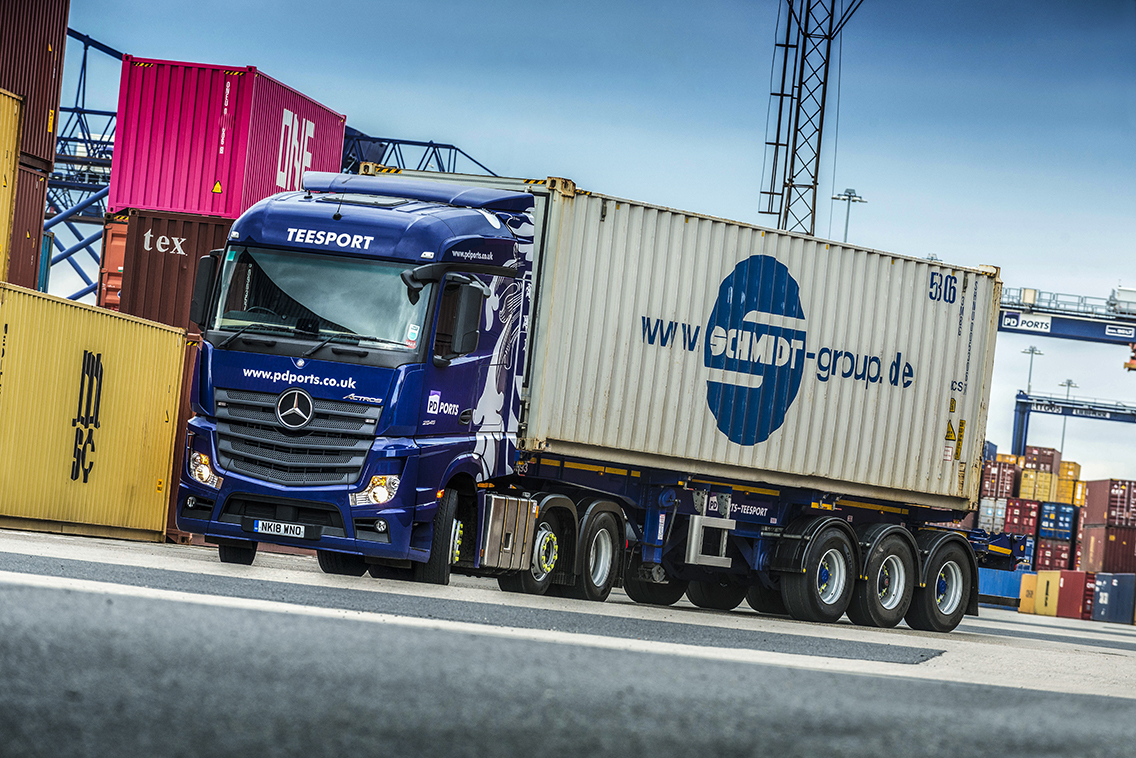 TEESPORT (UK)
Capacity: 575,000 TEU/year
Camco Gate Solution:
5 x Truck OCR
8 x in and outbound gates
Gate Operating System with Service Desk application
VBS:
370,000 appointments/year
1,300 individual users
6,000 registered license plates
VBS Mobile App
DEFINING THE VBS KPI
Numerous roles were involved in assessing the optimal VBS/gate process: key operational staff, Business and System analysts, IT, Project Management, representatives from the Transport Department, external consultants and finally, terminal customers, the gate and VBS users. Multiple KPIs were to be improved by implementing VBS. The main aims were to reduce manual intervention and to streamline processes to minimize the exceptions at the gate.
Following core KPIs were defined:
improved truck turnaround time
improved data quality
eradication of manual processes at the gate
improved yard efficiencies
Reducing exceptions at the automated gate and driving yard efficiencies benefits PD Ports and our customers.
TAILOR-MADE SOLUTION MATCHING A VERY DIVERSE CUSTOMER BASE
Multiple VBS alternatives were considered: from off-the-shelf solutions, in-house development to utilizing a module within the TOS. Teesport is quite a unique terminal due to the varied cargo types and both a deep sea and short sea customer base. It became clear that an off-the-shelf solution was never going to work and a solution with more built-in flexibility still providing the level of service the terminal customers and hauliers expected. As Camco offered to build a solution from scratch, this allowed Teesport to work alongside its customers and with the developers to build a solution that was going to be compatible with the terminal operating model.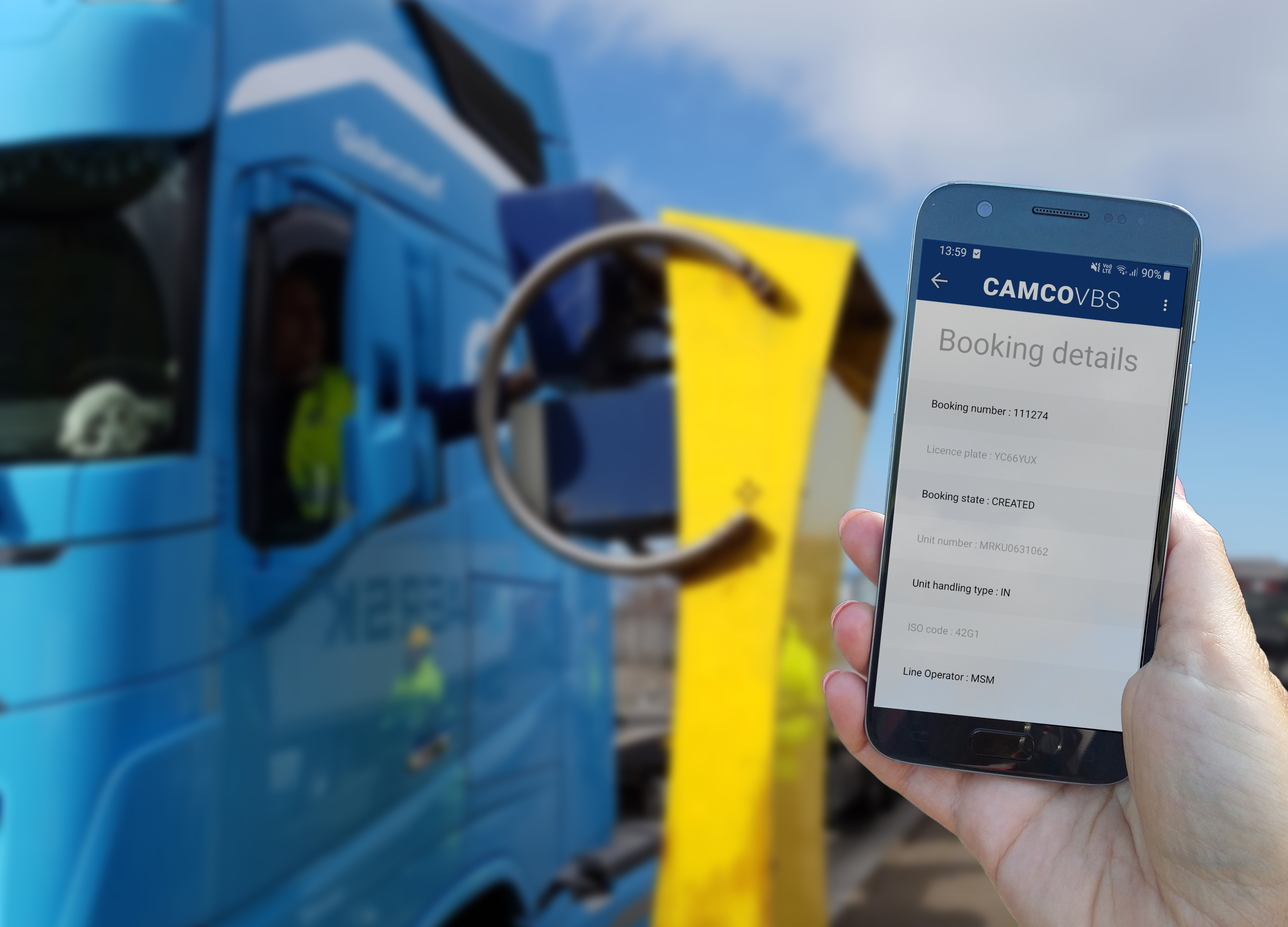 ONBOARDING THE CUSTOMER IS KEY TO SUCCESS
Initially, there was some resistance from customers and hauliers. Especially as short sea customers had complete flexibility to turn up to the terminal at any time. They felt that this would introduce a burden they did not want.
Customer Service worked closely with them and gathered feedback or concerns and fed them into the Project Team. This allowed defining a solution that customers would be comfortable using and not too onerous. Even today, customer feedback continues to be reviewed in order to continually improve the system and subsequent service delivery.
CUSTOMER TRAINING AND PHASED IMPLEMENTATION
PD Ports Customer Service team spent a lot of time speaking to customers directly, organized site visits, forums and email communications. A dedicated section was developed on the PD Ports website to provide customers with all the information they needed in preparation for the go live including video tutorials and FAQs. The top 20% of the customer base generating 80% of the traffic was specially targeted in order to get them registered and adopting the VBS before the main launch, which reduced the risk on go live significantly. The phased implementation allowed identifying issues and fixing them before opening up the VBS to a wider customer base. Some early adopters provided valuable feedback. VBS was tested gradually with more volume but still in a controlled manner, which proved very successful as some infrastructure concerns with load were uncovered.
Early adopters were switched back to the manual process while problems were fixed and then moved back to VBS to ensure it worked as anticipated. At the VBS go live, the project team was confident that it would work as expected.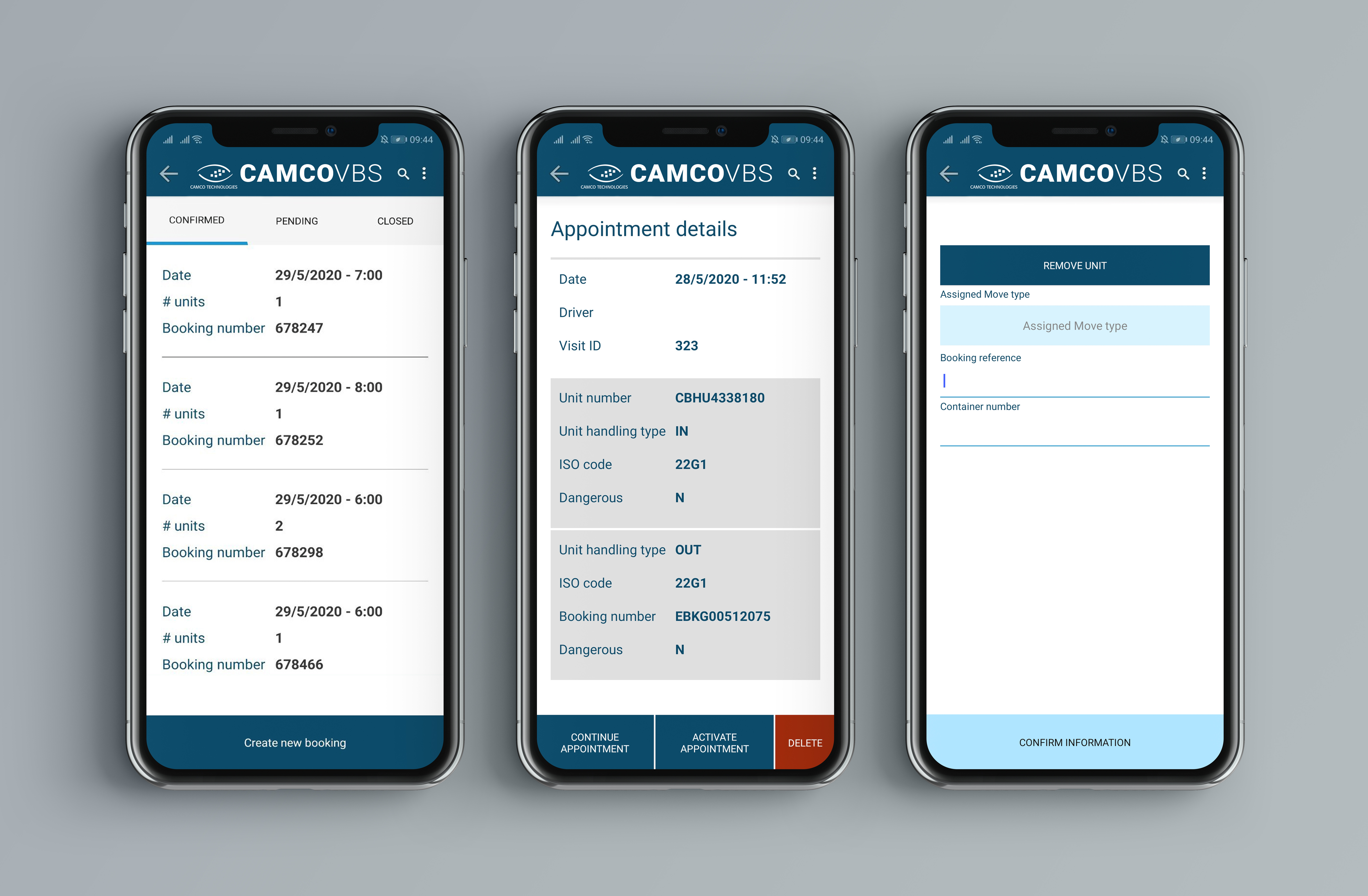 The VBS has become a key driver for gate efficiency. "Currently we do not use the VBS to manage traffic, but are working on developing it further with Camco to better manage traffic flow. We are also testing the VBS Mobile app. We think the mobile app will further improve user experience as drivers will have a real-time and complete appointment overview, improving truck-turnaround and avoiding redundant trips. The mobile app will allow drivers to be notified of unexpected events. Finally, we are also closely working together with Camco to investigate the possibility of integrating the VBS data entry process in the customers own haulage management system."