Meet our staff!
Employees explain why they enjoy working at Camco
Simon, Quality and Test Technician
Als Quality & Test Technician ben ik bij Camco verantwoordelijk voor het uitvoeren van kwaliteitstesten op onze eigen producten en aangeleverde productonderdelen. Ik begon bij Camco als technieker en deed zo al veel productervaring op bij installaties en onderhoud. Mijn werk blijft boeiend omdat het zoveel afwisseling biedt. Soms test ik camera's en beeldverwerking, en dan weer kiosken en toegangscontrolesystemen. Ik heb veel contact met collega's van Engineering, Productie en R&D, en zelf ook inbreng bij de verbetering van onze producten. Camco is ook een bedrijf in volle expansie wat de mogelijkheid biedt aan werknemers om mee te groeien.
Ine, Software Developer
Als starter is het een uitdaging om een bedrijf te vinden waarbij het meteen klikt. Na een intensieve zoektocht naar mijn eerste job als software developer, was Camco het enige bedrijf waarbij ik me meteen thuis voelde. Op dit moment kies ik nog steeds voor Camco. Als starter heb ik de kans gekregen om de front-end van het Position Detection System te ontwikkelen. Elke dag kom ik voor nieuwe uitdagingen te staan die mij laten groeien in mijn functie als software front-end developer. Als mooie afwisseling is er elke middag verse soep en lekker fruit. Kortom, Camco denkt niet alleen aan de te verwezenlijken projecten, maar ook aan de mensen die erachter staan!
Steven, Business Developer
Within my job I get to travel all around the world to meet with interesting people and experience different cultures. Camco's state-of-the art products and solutions are designed and made in Belgium but used all over the world. Being market leader for many years, Camco is a well-respected name in the business. The positive thing is that it sometimes opens doors automatically. On the other hand it also brings along quite some responsibility. What I like most, and which is also valued by many of our customers, is our team spirit and no-nonsense attitude. Yes we can, and we do what we promise. I'm very happy to be part of this hard-working team and as I personally love the sea, this is the ideal job for me!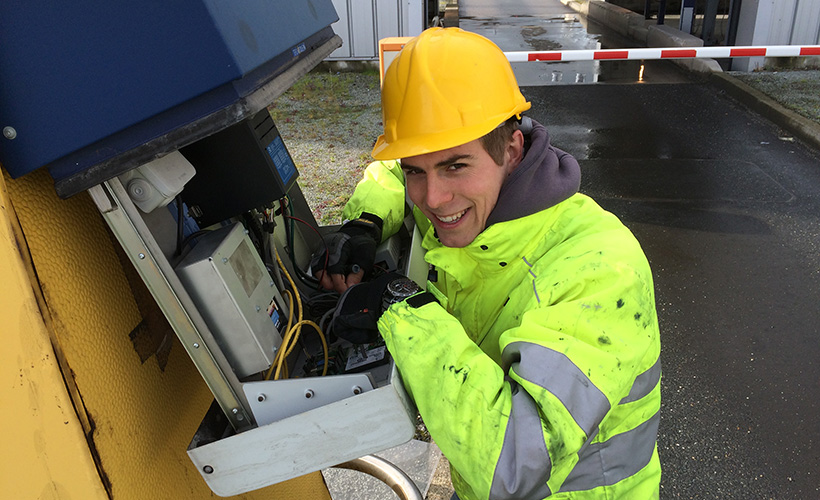 Thomas, Project Engineer
I graduated in 2015 and started working as a Project Engineer at Camco, where they're always on the look-out for young graduates. My Job consists of designing and implementing technology that is used to identify trucks and containers to steer the container movements on terminals. It's a job with a lot of variety: attending meetings with clients, designing and discussing equipment implementation plans, ensuring that the plans are executed on time and assisting with the installation in the field. It is a combination of a desk job and fieldwork, which allows me to travel abroad. I have never had a day that looked like a previous one.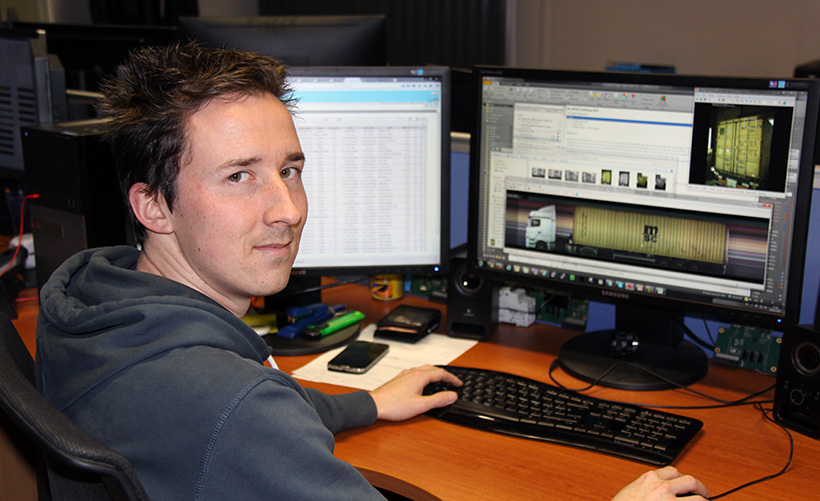 Jurgen, Support Engineer
As 2nd Line Support Engineer I'm responsible for monitoring our globally installed systems and providing technical customer support. When a support call is initiated, we closely interact with the customer until the issue is resolved, while trying to keep the impact on the terminal to a minimum. I started working at Camco as 1st Line Support Engineer and got the opportunity to further develop my skills and assist in various customer projects. As the Support team continues to grow, we all get specific responsibilities and choose our own growth path. My job is never boring as I constantly interact with interesting clients around the world and it's often impossible to predict what I'll be working on in the next hours or days. Within Camco, I closely work together with Software, Engineering and Field Technicians.
Bianca, Production Technician
Ik werk al enkele jaren als productietechnieker bij Camco en heb het hier erg naar mijn zin. Ik hou van mijn job omdat het een job vol afwisseling is in een steeds evoluerende sector. Het aanstekelijke contact tussen de verschillende afdelingen onderling en de stimulerende samenwerking met mijn rechtstreekse collega's maken dat ik elke dag met een glimlach kom werken. Camco is momenteel aan het groeien wat voor ons ook interessante doorgroeimogelijkheden biedt. Zo heb ik de kans gekregen om binnen het productieteam te evolueren naar de functie van trainer: ik leid de nieuwe mensen op en geef hen de nodige ondersteuning om hun job uit te voeren.
Wendy, Production Technician
Binnen de productieeenheid kan ik geconcentreerd werken in een aangename omgeving, tussen collega's die klaar staan om te helpen of een woordje uitleg te geven. Mijn job is héél gevarieerd: ik maak veel verschillende producten, van heel precies werk zoals solderen tot het in elkaar steken van elektrische kasten. Zo raak je nooit in een sleur. Het geeft voldoening om van enkele componenten tot een goed eindproduct te komen, met fierheid achteraf als het resultaat perfect is. Kwaliteit staat bovenaan! Bij Camco wordt er geen onderscheid gemaakt tussen mannen en vrouwen. Werken in een kleiner bedrijf maakt dat je meer persoonlijk begeleid wordt en er een familiale sfeer hangt tussen de collega's. Kortom een dag op Camco is zo weer om.