DP World Posorja is a new greenfield Deepwater Port in Ecuador. It will be one of the most important ports on the West Coast of South America and will place Ecuador on par with the port growth that is taking place in the region and the world. The new port in Posorja is easily accessible for both trucks and Neo-Panamax vessels. Camco Technologies, a long-term and preferred partner of DP World was contracted end 2019 for the implementation of a full automated gate system.
INTEGRATION WITH TERMINAL TOS
The project includes the automation of all 10 in- and outbound traffic using 2×2 OCR camera portals at terminal entry and exit capturing truck and container data, as well as images for condition recording. In the subsequent ten in- and outbound pedestal gate lanes, driver pedestals validate all data and present drop and pick-up zone. Full integration with the terminal's Navis N4 TOS system ensures correct and timely decisions.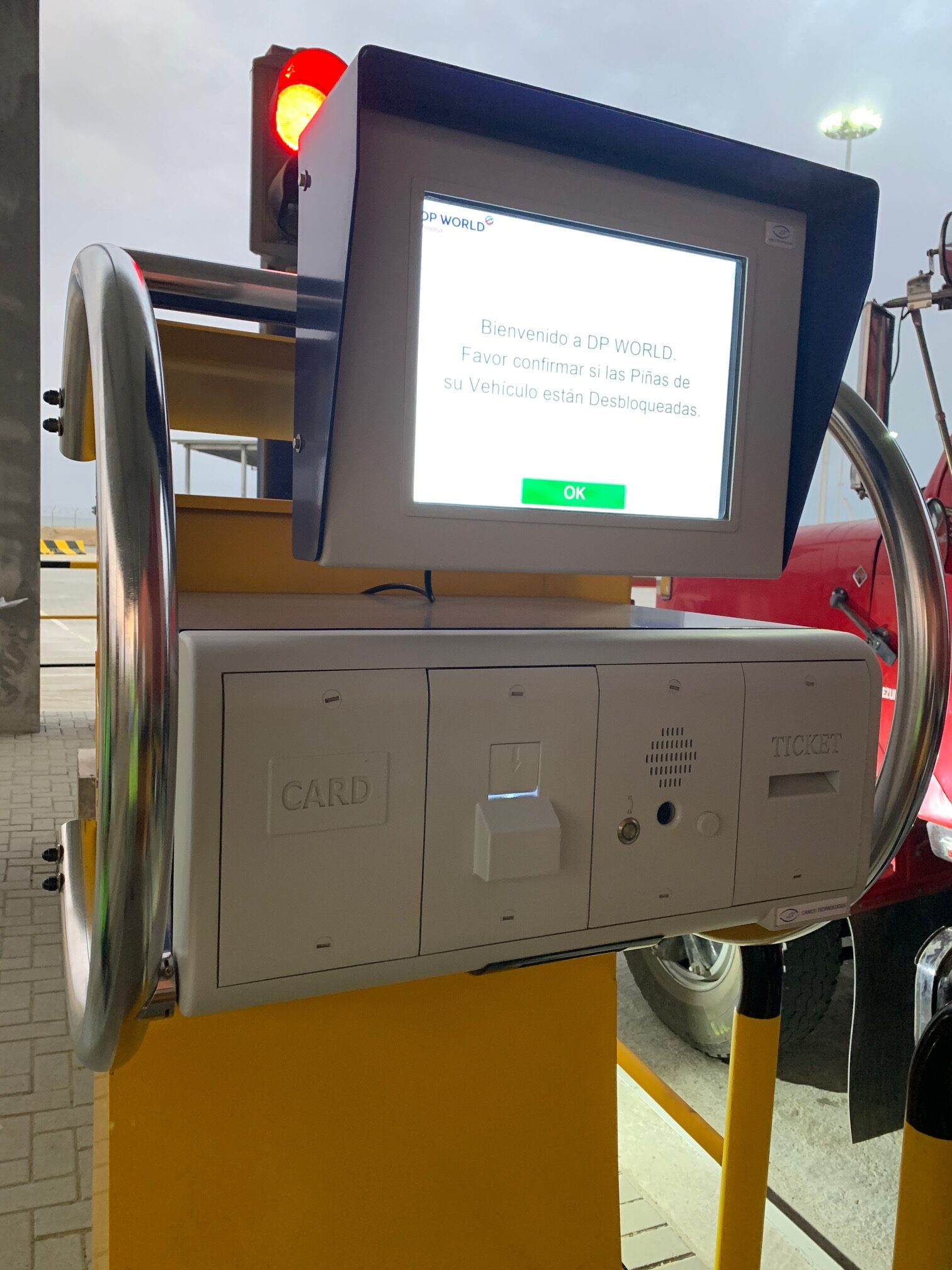 GATE AUTOMATION SOLUTION  MANDATORIES
Complete gate transaction in less than 30 seconds
Kiosk functionality
Security access, biometric and card reader functionality
Absolute safety: no truck drivers nor staff in gate zone
OCR performance of minimum 98%
Seamless TOS integration including truck pre-registration
Flexible workflow process
24/7 system support
Each of the 10 in- and -outbound gate lanes is equipped with a modular Camco kiosk.
BUILDING A BUSINESS CASE ON SYSTEM PERFORMANCE
After four months of project definition and negotiations, the contract was signed. In the on-site Analysis & Orientation meeting with all stakeholders (IT, Operations & Civil Engineering) both Camco and DP World teams started reassessing the gate automation needs in order to detail the process flow enabling a final design of the hardware and software requirements. The Camco proposal enabled Guillermo to build a strong business case combining operation processes improvement, with substantial ROI.
SUCCESSFUL PROJECT MANAGEMENT
After the kick-off meeting and definition of the project timeline, both teams started managing the project, organizing regular project plan reviews, weekly follow-up meetings, remote or in-situ, in order to review designs, logistics and workflow. With advancing insights, changes to the scope were integrated. The software development and hardware production ran in parallel. In order to ensure smooth project implementation and transition, a simulation tool allowed testing of all process flows and different scenarios without the need for any hardware. While the Camco installation team was erecting the hardware, the software engineer made the final configurations. Once the DP World gate operator and technicians were trained, the system could go live just 9 months after the contract awarding.
COMMUNICATION WITH STAKEHOLDERS
In Ecuador, the DP World Posorja terminal gate project is the first complete Gate Automation System. Customers, transport companies and truckers had to be informed about the advantages of the GOS by the DP World commercial team. Haulers, freighters and truck drivers had to be trained on how to integrate the new requirements in their daily operations.
Truck drivers quickly adopted the driver-ID card, fingerprint identification and the intuitive on-line booking pre-registration application. They appreciated the increased safety and security, but a shorter truck turnaround as well as better fleet and time management were the real drivers for fast adoption.
Truck drivers appreciate increased safety, efficiency and short truck-turnaround at DP World Posorja.

"I would strongly suggest to look for a partner with a thorough understanding of terminal operators' needs. A track record of successful cases is a real asset. Then, look for one single partner covering all aspects of the project: the process design, engineering, construction, integration of hardware, software and system support. This will allow to integrate any unpredicted system change in the shortest possible time. Finally, opt for a worry-free system with the highest degree of availability combined with 24/7 support."
DP WORLD POSORJA, ECUADOR
Capacity: 750.000 TEU/year
Capacity: 2.400 Trucks/day
Quay lenght: 480 m
Max draft: 16,5 m
Quay cranes: 4
RTG:  15
TOS: Navis N4
CAMCO GATE AUTOMATION SOLUTION
2×2 Truck OCR
10 x in and outbound gate lanes
Gate Operating System with Service Desk application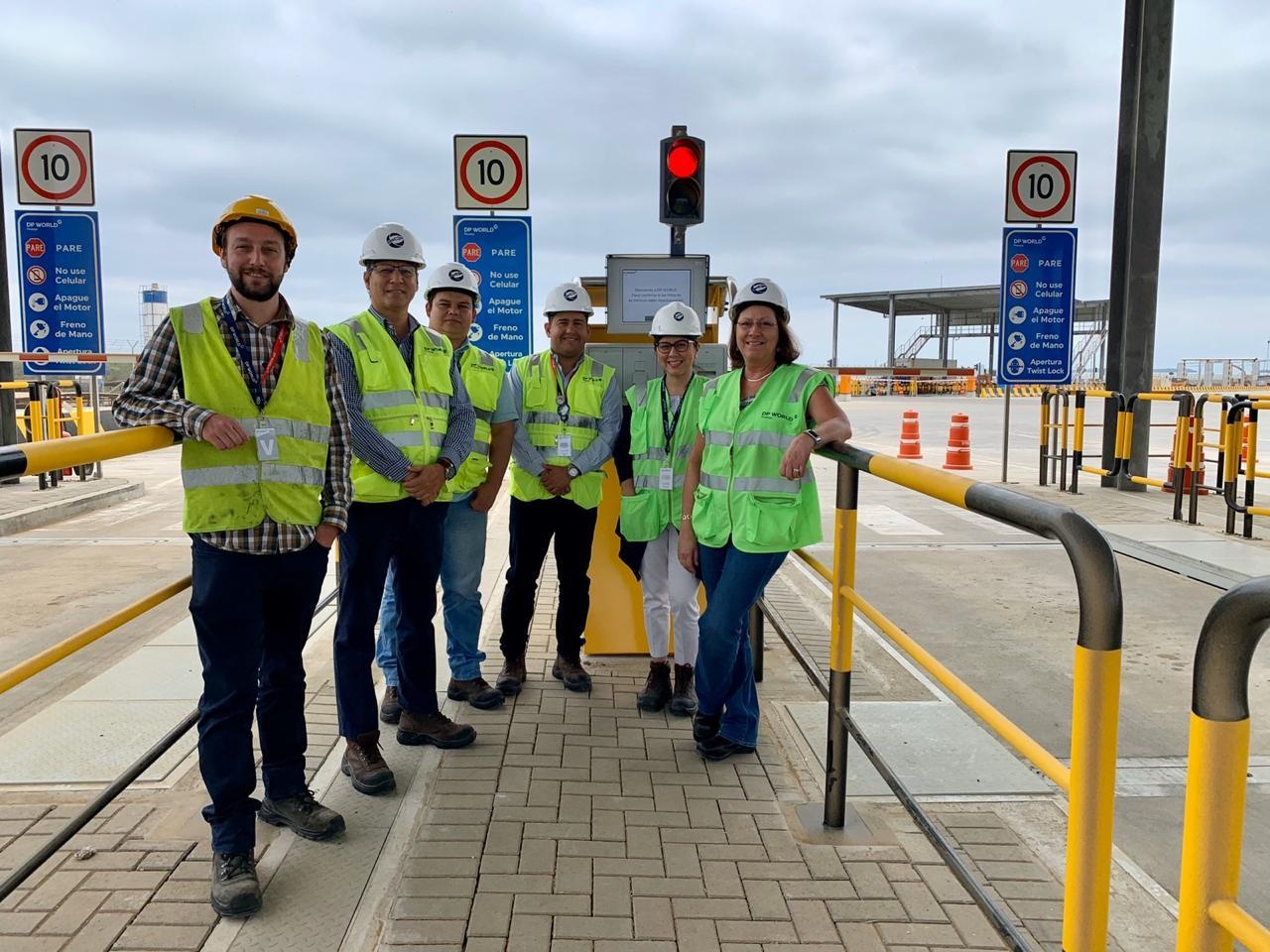 DP World Posorja and Camco Team