Transfer Point or Grid Kiosks enhance safety and efficiency at container interchange areas
Transfer Point or Grid Kiosk Systems
At container interchange areas, user-friendly and interactive kiosks assist truckers during container transfer. They provide a safe and efficient interchange solution for straddle carrier operated and automated terminals.
Since its initial design and deployment in 2007, Camco's grid kiosk system has developed into today's industry standard with an installed base of over 600 units. The intelligent design and customizable interfaces allow integration with any TOS and any brand of straddle carrier or ASC. Today, Cargotec recommends their customers to implement Camco's grid kiosks together with their own ASCs.
Concept
Seamless integration of grid kiosks with the TOS allow for perfect control at the yard interchange area. When a truck arrives at the container interchange point, the driver identifies himself at the kiosk, upon which the TOS is automatically notified on the job and location. During the actual load transfer, the driver is forced to leave his cabin and push the presence button, creating a safe environment. Optional panic buttons and rear view cameras enable the driver to visually follow the transfer process and cancel operations in case of an emergency. Camco's grid kiosks are currently used in a wide variety of interchange operations based on straddle carriers or Automatic Stacking Cranes (ASC) systems.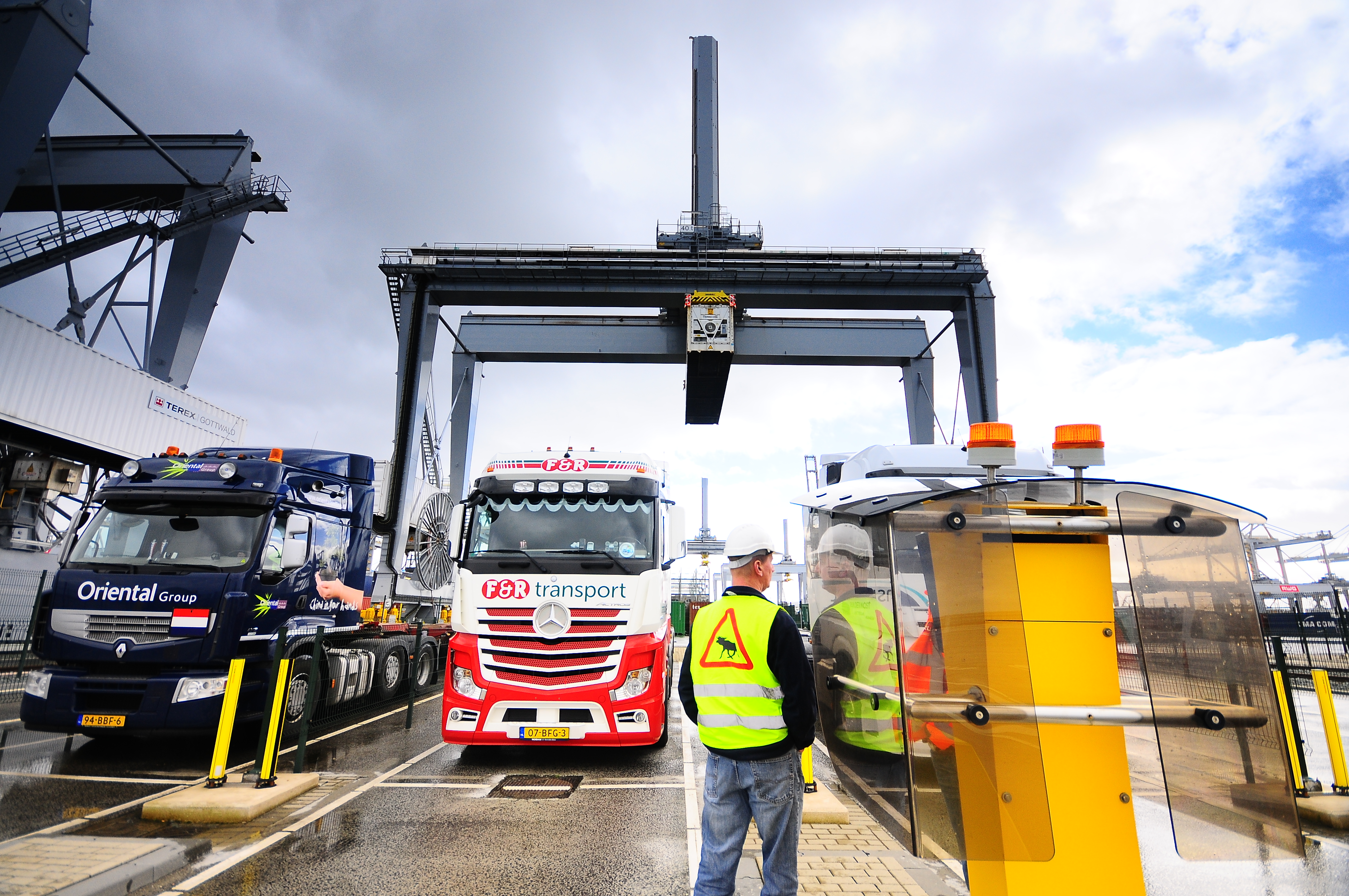 Key Features
Modular, ergonomic and robust design.
Low maintenance, easily replaceable components, and remote support.
10 inch touch screen, RFID reader and VoIP intercom.
Customizable presence, confirmation and emergency buttons.
Optional rain shield, traffic light, beacon light, back/side cameras and truck presence sensors.
Smooth interface with any type of ASC via profibus and ethernet.
Seamless integration with any TOS.
Benefits
User-friendly interface and safe environment for truck drivers during the container transfer process.
Flexible and interactive communication channel between truck driver and remote ASC operator will lead to fewer mistakes and misinterpretations.
Seamless integration with the terminal TOS and peripherals (e.g. printers).
Low maintenance as the kiosk front panel that contains all key components can be easily replaced in a few minutes.