License Plate Reader technology
License plate recognition with cameras using deep learning
Gate automation solutions require LPR systems that can read license plates of vehicles coming from various countries and/or states with the highest accuracy and in the shortest possible time. Camco has based its license plate reader on the same area scan camera technology that it uses to make high resolution images of the front and rear of containers and trailers. The reader takes a high resolution picture of the truck front, detects the license plate, and reads it with the highest possible accuracy.
Camco's LPR cameras run the latest generation of OCR engines based on convolutional neural networks and AI, pushing recognition rates to a maximum and exception jobs to a minimum. Deep learning models proved exceptionally useful for reading license plates: where traditional OCR software struggled with partly occluded characters, mixed fonts, damages etc, our latest software models are perfectly able to overcome these problems and result in even higher read rates.
Application areas
ISPS truck identification: Although ISPS requires only truck driver identification, many terminals also require vehicle identification. At the terminal entry gate the trucker-ID card is linked to the license plate, and the same combination is verified at the exit gate. An invalid combination means the truck cannot exit the terminal. A correct license plate number identification is therefore key to avoid helpdesk interventions and possible truck queuing.
TOS vehicle identification: Many TOS systems use the front license plate as the unique identification token in the gate process: all information related to the truck visit on the terminal is linked to it.
Lane matching: LPR can also be used for lane matching: license plates read at the OCR portal are re-read at the gate lanes in order to make the correct match.
Access control (out gate): Many terminals use LPR to identify and validate each vehicle exiting the terminal, to avoid theft of containers, vehicles and trailers.
Access control on Ro-Ro terminals: Because trailers have no standard identification number, most Ro-Ro terminals use a combination of reading the back license plate together with the fleet numbers to make a correct link with the booking.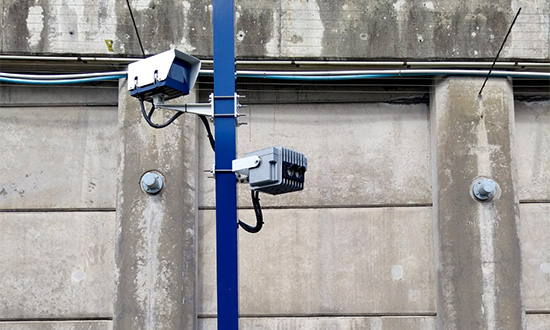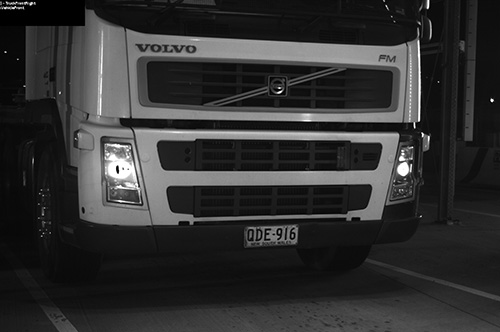 Key Features
2MP IP camera with embedded OCR engine, specifically designed for LPR or ANPR.
Ideal optical format 2:1 (to capture large front of a truck).
Fast: up to 200 pictures per second.
High dynamic range, needed for outdoor photography.
Very sensitive CMOS sensor allowing night operations.
Streaming mode triggered, no ground loops needed.
Global shutter allowing sharp pictures of moving objects.
OCR engine supporting majority of countries including all US states.
Extremely powerful OCR engine, supporting holes and screws in plates.
Proven OCR results range between 94% and 98% depending on the country.
Benefits
LPR reading is a good solution for automatic identification of vehicles. It can also be used for tracking and tracing as long as the highest accuracy can be guaranteed.
The problem is that the accuracy is less predictable than the reading of container numbers (the license plate is located in one spot only whereas container numbers are repeated, the quality of plates is extremely variable, the variation in types, formats, colors of plates is unlimited…), provoking in some cases an increase of exceptions and helpdesk interventions because of incorrect LPR readings, and thus creating more complex and less efficient gate processes. Camco advises to always crosscheck alternative solutions such as RFID ID-cards or tags when vehicle tracking and tracing is the main requirement.