GEN3 OCR camera portal with integrated controller and PoE cameras
Proven statistics such as vehicle speed up to 50 km/h, capacity of up to 500 truck passages per hour, processing time of less than 3 seconds per passage and the highest OCR accuracy rates on the market, explain why our portal is perceived as the industry standard.
Camco's Gate Automation Solution enables terminals to automate the processing and validation of truck and container data, and at the same time obtain hi-res images for condition recording of trucks and cargo. With unmatched speed and accuracy, the OCR camera portal scans all in- and outbound trucks and trailers. The system automatically detects and reads container numbers, ISO codes, trailer numbers, license plates, chassis numbers, IMDG dangerous goods labels, door direction, container position on chassis, and container state (full or empty). The generated quality pictures are stored for effective damage claims management.
Camco's OCR camera portal is designed to operate outdoors and comes in 2 different designs: a Maritime OCR truck portal for high-demanding applications in container terminals, and an entry-level Intermodal OCR truck portal meeting the reduced needs of the road-rail terminals. The 3rd-generation portals are cloud-ready and feature an integrated controller, integrated power and data cabling and portal supports to carry the side cameras. The intelligent controller steers all electronic equipment such as PoE cameras, lighting, sensors and laser scanners – a separate electrical cabinet is no longer required. With its small footprint and durable design, terminal operators will gain in real-estate and system longevity.
The in-house developed OCR cameras are based on line scan and area scan technology and contain only thoroughly tested and industrial-grade components. They run the latest generation of OCR engines based on convolutional neural networks and AI, pushing recognition rates to a maximum and exception jobs to a minimum.
High throughput: Thanks to its fast processing speed, a single camera portal can handle up to 500 trucks per hour. Typically, one or two portals are installed in front of the gate lanes. The OCR portal is based on spot line triggering meaning that all pictures are taken on one virtual line. Combined with the fast processing, this concept allows almost bumper to bumper traffic and does not require traffic throttling solutions such as speed bumps, traffic lights or barriers.
Excellent OCR accuracy rates: Camco's OCR camera portal is known for its unparalleled image quality and excellent OCR accuracy rates, with a guaranteed container code OCR accuracy rate of at least 98%. Customers are welcome to check and validate these accuracy percentages using Camco's open and straightforward auditing system.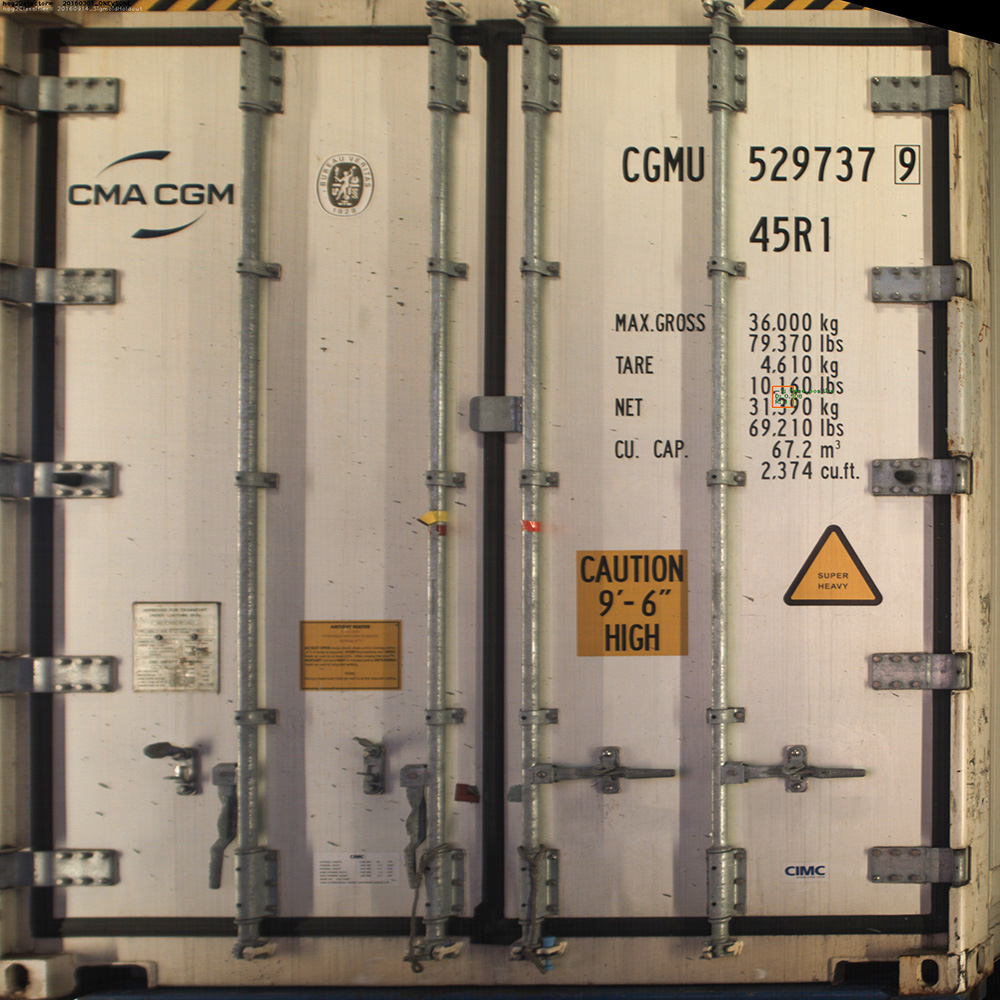 Key Features
Handles a non-stop truck flow, with vehicle speed up to 50 km/h (31 mph).
Processes up to 500 truck passages per hour.
Full processing in less than three seconds per passage.
Highest OCR accuracy rates in the market (>98%).
Supports all container types and combinations.
Supports intermodal, non-ISO container and trailer numbers.
Supports US chassis numbers.
Supports load type, position and door direction.
Redundant by design.
Produces tamper-proof, certified high resolution images.
Embedded time and location tags.
No inductive loops needed.
Low energy LED-based smart illumination system.
Small footprint.
Seamless interaction and integration with local TOS or other host system.
Two portals, satisfying different needs.
The Camco truck camera portal range includes a high-end configuration for critical operations in high demanding maritime environments as well as a ready-to-go portal for high-performance data capture in stable conditions designed for the intermodal and inland terminal markets. Offering the same OCR/OFR performance, the basic equipment and limited redundancy of the Intermodal truck camera portal allow a cost-friendly solution in a fixed setup instantly operational when unboxed.
Benefits
With more than 350 installations around the globe this solution is proven technology. Camco's powerful OCR systems are flexible and modular, and help terminal operators accelerate gate throughput while minimizing truck processing time. Its extremely high OCR accuracy rates allow a very fast ROI as less operator interventions are required.