NORTH AMERICAN INTERMODAL TERMINAL MARKET
REMPREX and CAMCO have established a sustainable partnership in the North American Intermodal market dating back to 2006. At the time, REMPREX started introducing turnkey gate automation services to the railroads. The technology already existed and was deployed to certain railroads with limited success. Instead of simply providing the technology to their clients, REMPREX incorporated CAMCO technology into a turn-key operating approach that responded to a real market need, accelerating growth.
Today, REMPREX is an end-to-end solutions provider for the intermodal and transportation industry, serving all North American Class 1 railroads (yearly carrier revenue exceeding 433.2 million USD) and five marine terminals. REMPREX supports or fully operates more than 80 intermodal terminals across the United States and Canada, including 800,000 lifts and 13.5 million gate transactions annually. Its intermodal and marine terminal product portfolio includes train and truck portals, Automated Gate Systems (AGS), terminal operations and optimization, providing customized solutions that operate on safety, service and cost. Other infrastructure technology and logistics solutions such as drayage services or AGS Express support the Distribution Channel and trucking industries.
BECOMING THE MARKET REFERENCE:
115
TRUCK PORTALS DEPLOYED ACROSS THE US
To provide advanced imagery and facilitate damage inspections for REMPREX intermodal terminals, AGS integrates with CAMCO portal technology, which captures and stores images of vehicles as they enter or exit an area. The Portal uses Optical Character Recognition (OCR) and Optical Feature Recognition (OFR) technology to read unit information and gather the associated data. The system automatically detects and reads container numbers, ISO codes, trailer numbers, license plates, chassis numbers, IMDG dangerous goods labels, door direction, container position on chassis, and container state (full or empty). Using a combination of camera types and angles, the Portal can capture images of all sides of a vehicle for damage inspection. By integrating with AGS technology, the system pairs images with Gate transaction data. Running on the latest generation of OCR/OFR engines based on convolutional neural networks and AI, Camco cameras push recognition rates to a maximum and exception jobs to a minimum
For REMPREX, the truck portals will continue to be the core automation technology in the intermodal gate process. The portals' original intent was to identify the stenciling of containers entering and exiting the facility. However, identifying all aspects of the container such as placards, seals and damage contribute to solving significant operating challenges across the entire supply chain.
More than 115 truck portals have been deployed across the US processing millions of freight containers per year. Using CAMCO technology, REMPREX portals are capable of handling truck speeds up to 30 miles per hour, 2 seconds or 9 feet of vehicle separation, and up to 500 vehicles per hour!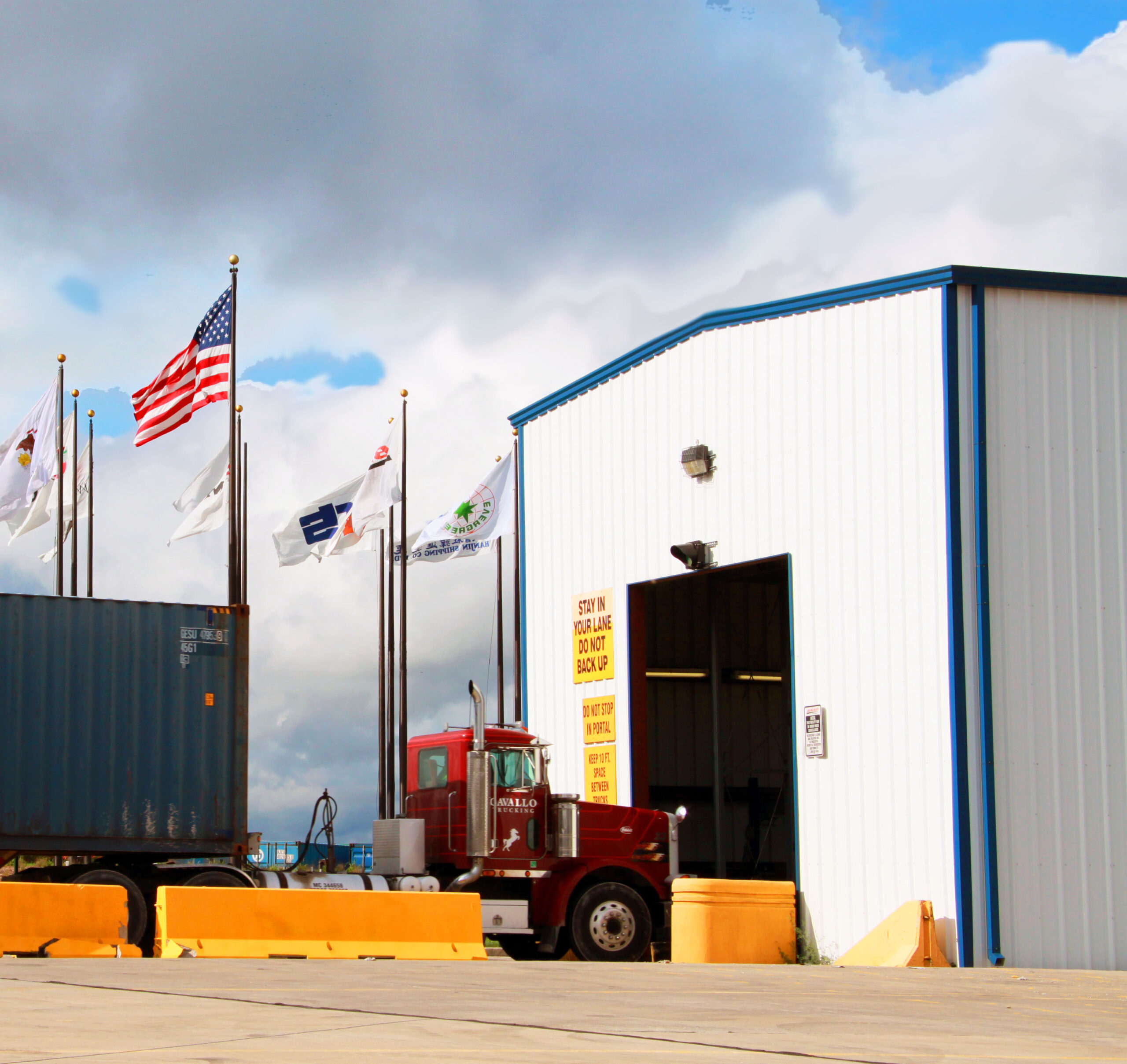 OCR linescan image of container truck
RAIL INSPECTION PORTAL: REGISTERING THE
EXACT POSITION OF CONTAINERS ON
IDENTIFIED RAILCARS
In the Kansas, Memphis and Los Angeles terminals, REMPREX provides CAMCO Rail Portal technology to assist with unit identification before a train arrives at the line scan cameras. When a train drives through the camera portal, the line scans generate high-quality images of each container's left and right side, while optional area scans take images of the con–tainer's front and back in all configurations: single and doubled stacked. The system also allows railcar and chassis identification using CAMCO state-of-the-art OCR/OFR cameras and technology to read unit information and gather the associated data. Rail Portal images are viewable through a visual operator console for post-processing, OCR/OFR validation, and consolidation. More than 20 rail portals have been installed in 5 Intermodals.
Rail camera portal supports double-stacked trains
OCR linescan image of rail chassis

PROJECT IMPLEMENTATION: COMBINING
STRICT PLANNING WITH STATE-OF-THE-ART
TECHNOLOGY
CAMCO production has to integrate seamlessly into REMPREX deployment planning. Keith Jackson, Director of Client Solutions, in charge of all truck portal and rail portal deployments elaborates:
For each project, a coordinated effort by on-site staff and remote engineers is required to ensure that each technology is deployed properly and ready for production traffic. The basic success measures of a project are being on-time, on-budget and having a successful transition to production. To accomplish that, high-quality manufacturing, upfront planning, and consistent communication throughout the deployment is required.
CAMCO's consistency has proved to be very valuable in our implementations. Their products stand out from competition in upfront development and engineering. CAMCO stands by each of its products and will only engage in an activity if they fully believe in its success. Their approach provides REMPREX and its clients with what can be defined in one word: confidence.
MAINTENANCE & SUPPORT: FROM BASIC ASSISTANCE TO FULL OPERATIONS
REMREX's Technology Support Department provides a variety of Maintenance and Support packages to fit each client's needs. Certain clients are accustomed to supporting technology and only need basic assistance. However, the majority of the North American railroad market prefers a hand-off approach with the technology and look to REMPREX to pro–vide the turn-key services to deploy, maintain, operate it. In the end, SLAs are what the clients are purchasing, those SLAs are delivered through the technology and services we provide.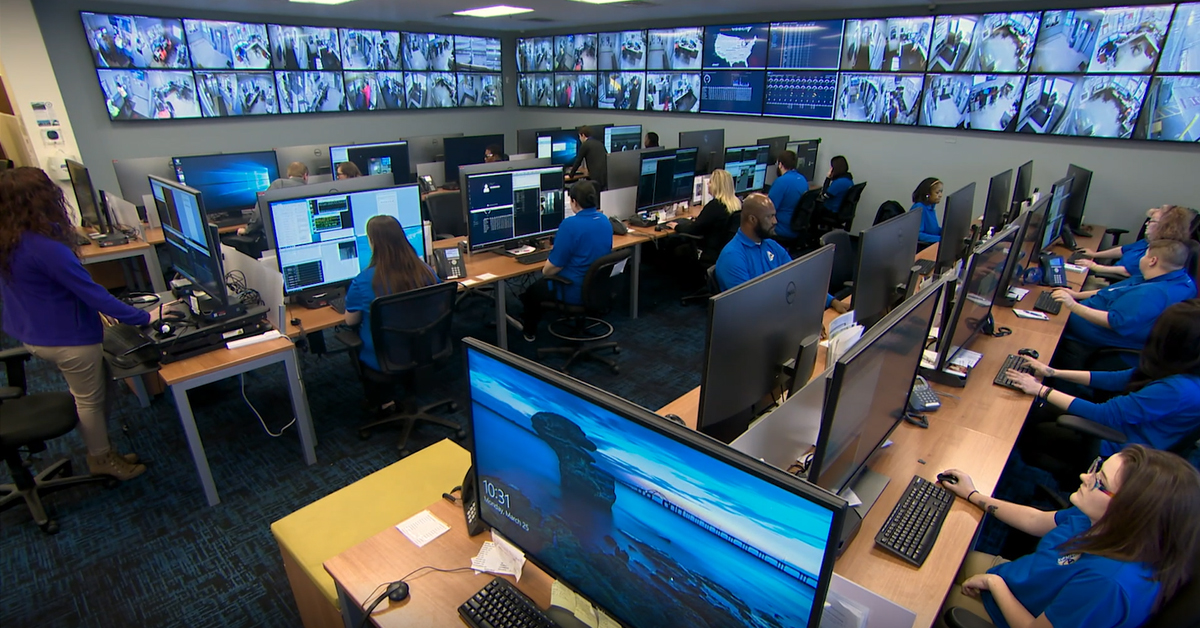 The biggest challenge in the US Intermodal market is the need to do more with less.
With the loss of rail volume associated with coal as well as the push to the Precision Scheduled Railroading model (PSR), clients require better service at lower cost. The only sustainable way to accomplish this is to challenge conventional methods and evolve the way operations are performed. With our history of innovation and ability to incorporate technology and data for more efficient operations, REMPREX is well positioned to meet our industry's needs.
The largest barrier for automation is that the cost to properly define and deploy automation needs to yield enough benefit to justify the investment. This is accomplished by matching the correct amount of automation with an operation's need. Along with CAMCO, REMPREX provides technology for fully automated terminals. However, these are not the majority. Throughout North America, there are hundreds of terminals that may never justify the cost of a fully-automated terminal. Targeting specific aspects of the operations to solve challenges such as high cost, service or safety through automation is key.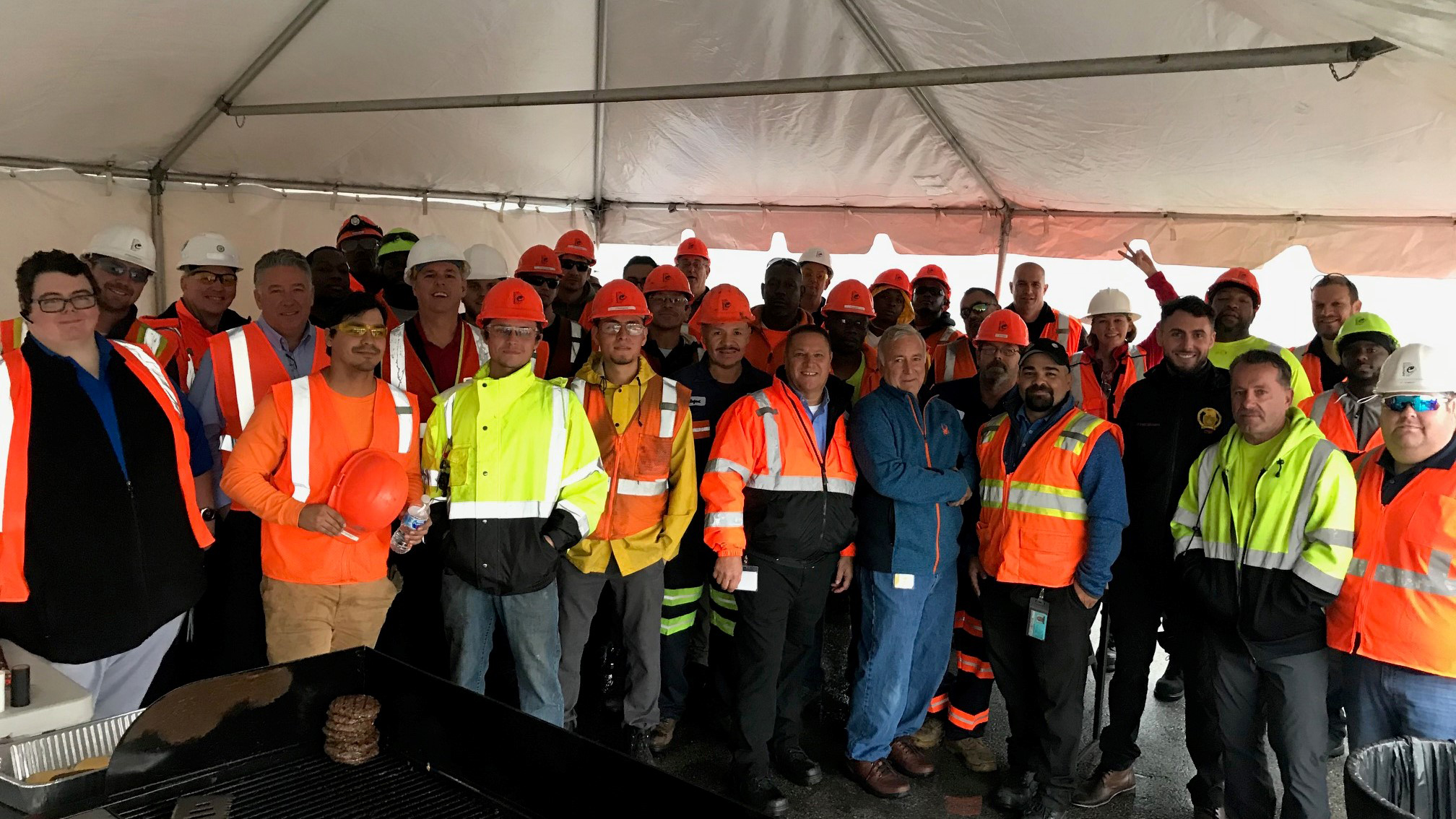 REMPREX Canadian Pacific Bensenville Intermodal Terminal crew