Camco Technologies is adopting its AI image recognition and Convolutional Neural Network expertise (CNN) into smart solutions increasing terminal efficiency and safety. One of such applications for increased safety is the protection of truck drivers during the container transfer process in the yard. This specific moment is prone to accidents which can be fatal as trucks, truck-drivers and straddle carriers are maneuvering in the same small zone.
Before the straddle carriers starts the process of picking-up or dropping-off the container, as a safety procedure, the driver is expected to exit the truck cabin and wait in a safety zone until the straddle carrier completes the task and clears the lane. This procedure requires an alarm to go off as soon as the straddle carrier approaches the trailer chassis with the truck-driver not (yet) standing on a pressure-sensitive safety mat.
Switching from laser based to image-recognition based technology.
Camco Technologies decided not to rely on laser technology for developing its people detection safety application, even though it sounded very suitable at first. Instead, Camco Technologies developed a vision-based solution with one IP camera per lane  for monitoring straddle carrier operations 24/7.
Our vision-based safety solution is complex. More complex than a laser-based solution. First and foremost, the system needs to be very responsive as soon as lane activity (i.e. a truck entering) is detected. Also, performance must not be influenced by bad weather or poor light conditions. This robustness can only be accomplished by reinforcing the system with data from nearly every possible situation and thoroughly benchmarking newly trained models before deploying them.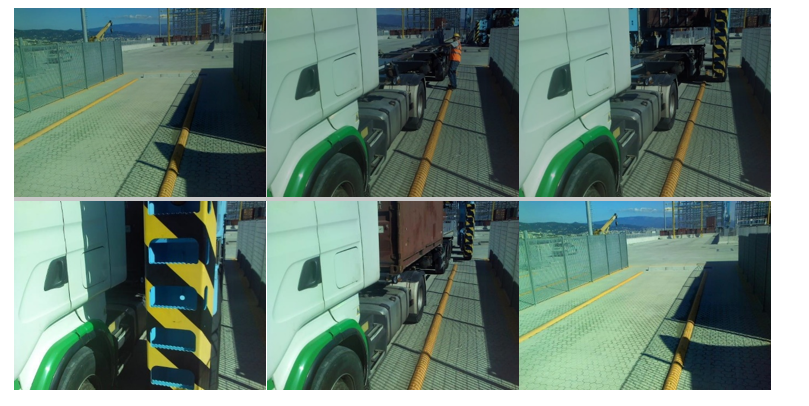 The container exchange process captured by a Camco Technologies IP camera:  A truck entering and leaving lane after the straddle carrier safely loaded a container onto the truck chassis
Intense training of the Convolutional Neural Network algorithms

Opening cabin doors blocking the view, people walking through an empty lane or containers posed onto the surface would have prevented a laser-based solution to detect the information needed for triggering an alarm or caused too many false positives. With deep learning it becomes possible to train and improve the networks by including these situation or images to the data set. It takes time and resources to train the algorithms to become performant. Once the model tweaked and tuned, it can be easily deployed and implemented for monitoring all the grids in the Straddle Carrier operated container transfer zone.
In this particular safety application based on two CNN models, the central AI server is capable of processing and monitoring camera streams from up to 50 lanes in parallel.

Training the model with datasets of opening doors, or straddle carrier and staff entering the lane